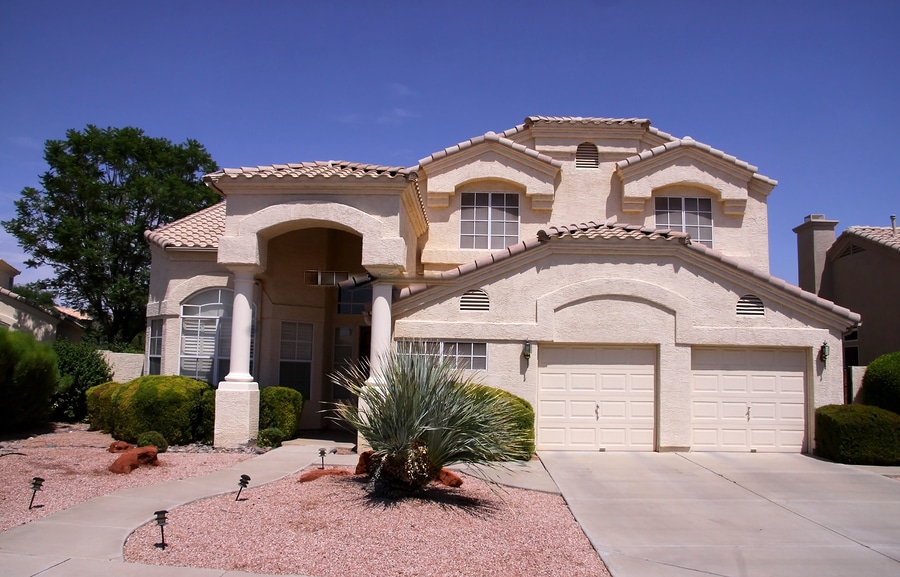 Homeowners insurance provides you critical protection in the event that damage occurs to your home. It is also a likely requirement of a mortgage lender to protect their collateral when financing a home purchase. The national average premium for home insurance is around $1,083. The average premium in Arizona is much lower at only $765.
The National Association of Insurance Commissioners recently reported that premiums have been rising by roughly 3.5% annually. Florida has the highest average home insurance premium at $1,993. Oregon has the lowest average at only $643. There are a host of factors that can have an impact on the premium.
Value of Your Home
Obviously, the cost of home insurance is going to be heavily influenced by the value of your home. Data shows that home insurance premiums do increase according to the policy limits needed to cover the home. A ValuePenguin analysis showed there is on average a 64% increase in premiums between a $250,000 home and a $500,000 home. The increase was only 35% when comparing coverage for a $500,000 and a $750,000 home.
Replacement Cost vs Market Value
Home insurance policies may have coverage limits that are based on the replacement value or the market value of the home. The replacement cost is determined by the amount of money that would be needed to rebuild the same home. One way that this is determined is having a building contractor evaluate the costs and make an estimate.
The market value is determined by the amount that a buyer would likely be willing to pay for the home. A home's market value is influenced by many external factors that are unrelated to the replacement of the structure itself. Buyers often consider the condition of the home when making decisions regarding what they deem the property to be worth. Other factors may include:
The quality of the local public school system
Statistics regarding the level of crime in the area
Whether there are plenty of homes available for purchase that are comparable (or not)
The cost of property taxes and more
In some instances, the insurer who is issuing the policy may make an assessment of the home's value. It is always recommended that decisions regarding the amount of coverage needed is based on analysis. There are professionals such as real estate appraisers that can make accurate assessments regarding the value of a property.
Additional Coverage Needs
Often those with certain expensive belongings will need to obtain additional homeowners coverage that will increase the cost of the premium. This may apply to jewelry, antiques, and others. A home insurance policy will typically contain a specified limit that applies to personal property kept in your home.
Deductible Amount
The deductible on a home insurance policy functions similarly to those associated with comprehensive or collision automobile insurance coverage. The deductible is a fixed dollar amount that an insured party must pay "out-of-pocket" when filing an insurance claim. Common deductible amounts range from $500 to $1,500. Increasing the deductible will decrease the cost of the premium to some extent and vice versa.
Building Materials of the Home
The materials that compose your home may play a role in the premium. Homes with a wooden frame may be more susceptible to termites and fire damage compared to a brick home.
| | | |
| --- | --- | --- |
| Siding Material of Home[i] | Annual Premium | Compared to Average |
| Frame | $1,365 | 1% Higher |
| Brick or Stone | $1,216 | 10% Lower |
| Veneer of Brick or Stone | $1,282 | 5% Lower |
| Logs or Wood | $1,520 | 13% Higher |
Geographic Location
The location of your home may have an effect on your home insurance rates. For example, those who live in close proximity to an ocean may be at higher risk for damaging wind. Perhaps you live near an earthquake fault line or there are no fire hydrants in the neighborhood. Those residing in areas susceptible to hurricanes or flooding may need to purchase a separate policy or additional coverage.
Claims and Credit History
Insurance companies will check to see if you have a track record of filing insurance claims. Those with a recent home insurance claim are much more likely to encounter higher insurance rates. Insurers in Arizona are also able to review your credit history. Data suggests that those with a poor credit score are more likely to file insurance claims.
Potential Discounts
It is very important to look for discounts that you may be eligible for. Consider "bundling" your home insurance with other types of coverage such as automobile insurance. An independent insurance agent is able to shop for coverage through multiple insurers to locate discount opportunities for you.
Home Insurance Provider in Casa Grande
It is important to be certain that your home is properly insured in case of unforeseen calamity. Our professionals at the Gebhardt Insurance Group can accurately evaluate your coverage needs and find a suitable policy at a highly competitive price. Contact our office today at (520) 836-3244 to get started.