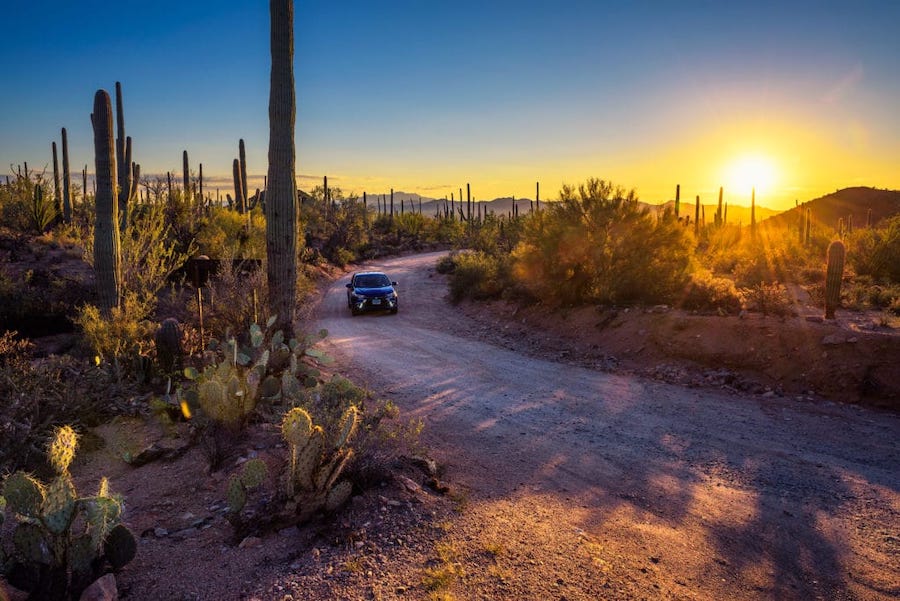 If you own a vehicle in Arizona you are required to maintain the state's minimum for automobile liability insurance coverage. Automobile insurance is important because accidents commonly occur and they may have significant financial consequences. In 2017 in Arizona, there were over 127,000 total accidents. Among these accidents, roughly 919 were fatal and over 37,000 injuries were incurred. Crashes involving motor vehicles in 2017 in Arizona caused approximately $10.7 billion in losses.
Premiums on the Rise
A report early in 2019 showed that drivers in Arizona saw a roughly 3% increase in auto insurance premiums. Many of those who have experienced increases had not been involved in an accident or had a traffic violation. Drivers in the Phoenix area have experienced the most dramatic increases. This is largely attributed to population growth, more traffic, and more accidents. In the U.S., the recent rise in the number of accidents is partially attributed to the widespread problem of distracted driving.
Minimum Requirements in Arizona
The state requires that all drivers maintain a "15/30/10" auto liability insurance policy, which is as follows:
Bodily Injury Liability: $15,000 per person / $30,000 per accident
Property Damage Liability: $10,000
Uninsured Motorist Coverage for Bodily Injury: $15,000 per person / $30,000 per accident (may be waived)
Underinsured Motorist Coverage for Bodily Injury: $15,000 per person / $30,000 per accident (may be waived)
These state required minimum coverage levels in Arizona also apply to personal golf carts, motorcycles, and mopeds.
Full Coverage
Motorists also have the option of adding comprehensive and collision insurance coverage. Collision coverage is used to repair or replace your vehicle when involved in a car accident while operating. Comprehensive is used to repair or replace your vehicle from other occurrences such a theft, vandalism, etc.
It is important to remember that these coverages may not really be optional. Those who are financing the purchase of their vehicle are required to maintain this coverage to protect the lender until the loan is paid off. These types of insurance have a deductible amount. This is a set amount that the insured must pay "out of pocket" before the insurance company assumes responsibility for the remainder.
Neighboring State Cost Comparison
The following analysis is based on "full coverage" for a 40-year-old male with policy limits of 100/300/50 ($100,000 for injury liability per person, $300,000 for all people injured, and $50,000 for property damage). The policy has a $500 deductible for collision and comprehensive coverage. The driver has a clean driving record and satisfactory credit score.

| | | | | | | |
| --- | --- | --- | --- | --- | --- | --- |
| | | | Average[1] | | | National Rank |
| New Mexico | | | $1,382 | | | # 27 |
| Arizona | | | $1,449 | | | # 22 |
| National Average | | | $1,457 | | | – |
| Nevada | | | $1,525 | | | # 19 |
| Colorado | | | $1,761 | | | # 12 |
| California | | | $1,846 | | | # 6 |
Importance of Accurately Comparing Policy Quotes
The market for car insurance in Arizona is overseen by the Arizona Department of Insurance (ADOI). ADOI encourages competition among insurance companies. When shopping for insurance it is critical that your comparisons are true "apples-to-apples." This means that you will need to identify the key variables that we discussed earlier when comparing. This includes the limits of coverage and the deductible amounts—when applicable. Remember that just choosing the cheapest car insurance is not advisable if it does not truly cover your specific needs.
Driving Record and Claims History
A car insurance company will typically place great emphasis on your history of traffic violations and filed insurance claims. The Comprehensive Loss Underwriting Exchange (C.L.U.E) is a database that shows any claims that a driver has filed with their insurance company for the prior seven-year period.
Cost of Vehicle and Deductible Amount
The value of the vehicle you are insuring is of obvious importance to insurance companies in issuing comprehensive and collision policies. The replacement cost of many of today's newer vehicles is sizable. In most cases, your premium will decrease as your deductible amount increases. For example, you may notice that changing your deductible from $500 to $1000 results in considerable savings.
Credit Score and Other Demographic Factors
Data has traditionally shown that those with good credit are less likely to file an insurance claim. Your age is likely to play a major role in the amount of your policy premium. The following chart (example) illustrates how one individual's costs changed based on their age. Teenagers are viewed by insurers as being higher-risk motorists. This is because of their lack of driving experience and also their tendency to demonstrate more risky behavior.

| | | | | | | | | |
| --- | --- | --- | --- | --- | --- | --- | --- | --- |
| Teenager | | 25-Years-Old | | 30-Years-Old | | 45-Years Old | | 60-Years-Old |
| $344.78 | | $111.89 | | $100.44 | | $95.78 | | $91.44 |
Location
In a previous chart, we looked at a state-to-state average cost comparison. Your specific location, which is typically determined by your zip code, will also impact the premium cost. Those in urban areas have a higher likelihood of being involved in an accident. Certain cities have relatively higher rates of auto theft and other factors may be considered.
Multi-Policy Reductions and Other Discounts
Multi-policy discounts are often available when "bundling" different types of insurance from the same company. For example, you may insure your car and home with the same company. Look for the many different types of discounts that are available in the market. Some of the common types include those for seniors, students, those in the military and others. Some insurers offer members of certain groups such as professional organizations and alumni associations discounts to incentivize these individuals.
Importance of Using an Independent Agent
A captive insurance agent is one who represents a specific insurance company. Unlike captive agents, independent insurance agencies or brokers are able to offer policies from various insurers. The advantage of shopping through an independent agent is that they are better able to assess your individual policy needs and match you with a policy that is best-suited and most cost-effective for you.
Affordable Car Insurance for Arizona Drivers
The Gebhardt Insurance Group has been proudly providing insurance for individuals, families, and businesses in Casa Grande for many years. Our team of insurance professionals delivers customized insurance solutions and superior customer service. We encourage you to contact us today at (520) 836-3244 for all of your insurance needs.

---
[1] https://www.insure.com/car-insurance/car-insurance-rates.html
The following two tabs change content below.
Steve Gebhardt
Gebhardt Insurance Group
was honored by AAA Insurance for being the top New Policy Agency in Arizona for 2013 and achieving the "Emerald Achievement Award."
Latest posts by Steve Gebhardt (see all)